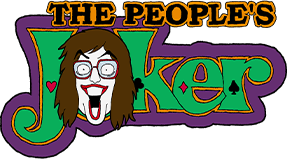 I am looking for the following contributions:
Found Footage
Not only is "The People's Joker" primarily telling an entirely new story using footage from both Joker (2019), Suicide Squad (2016), and jokers past, we are also looking for any weird, gross, sexy, gay, funny, or cool clown footage you think simply MUST be included. They can run the gamut of Batman fan films, rodeo clown footage, fetish porn, cheesy children's clown shows...basically anything that has a clown and/or the Joker in it...you get it!
Video Editors
Vera can't edit this thing alone, thats why in addition to editorial contributions from Vic Berger and Everything is Terrible, she's looking for additional editors to help put together some of the more robust sequences in this film. Any experience level is welcome!
VFX Artists / Animators
Part of turning this into one cohesive visual experience as well as the most action packed queer coming of age film of all time means there's going to be a number of visual effects and animation sequences that we'll need help with, including a "Batman The Animated Series" style chase scene and psychedelic fun house sequence in the vein of Holy Mountain. "The People's Joker" needs artists who specialize in 2D and 3D animation, face replacement/deepfakes, and compositing.
Matte Paintings / Miniatures
The People's Joker is looking for matte paintings, backgrounds, miniatures, models, and more to create an entirely new version of Gotham City...aiming for Joel Schumacher meets Akira with a dash of Mary Poppins and a Jodorowsky cherry on top.
Music
OUR Joker film will not only showcase dope beats from DJ Dougpound, an entirely new score by Justin Kroll and Quinn Scharber, and a song about clowns from David Liebe Hart, it will feature a motion picture soundtrack of pop and rock tunes (that we don't own the rights to) including Jokerman by Bob Dylan, Small Town Boy by Bronski Beat, and He's a Rebel by the Crystals! Seeking any bands or solo acts that would like to record original covers of these and more!
Cast Members
Putting out a call to actors of any experience level who would like to portray a character in "The People's Joker," either in voiceover or something you shoot remotely. Roles include Oswald Cobblepot (the Penguin/owner of Chuckle Fucker's Comedy Club), Bruce Wayne (billionaire pedophile and masked vigilante), President Lex Luther, and more! You'll be GREAT company - Vera will be playing both Joker and Harley Quinn in this film, Tim Heidecker is set to play a conspiracy theory talk show host in the vein of Alex Jones, and we have reached out to Jared Leto to reprise his role as the Suicide Squad Joker.
Distributors
We have no idea how to release this thing. If you're an independent distributor with any ideas on how to exhibit an incredibly illegal movie during a global quarantine, please contact us! We're open to any ideas on how to get this on every television in the world.
Other
Is there something we missed?? Let us know. This is OUR Joker and Vera is open to any and all ideas from you, jokesters.